Introduction
I have been doing genealogical research since the mid 1970's, when I helped my father research his and my mother's family trees. In the old days, we spent a lot of time visiting "brick and mortar" sights, like court houses, churches and libraries, as well as walking cemeteries. I learned from my early mistakes (mainly not recording enough details and sources!).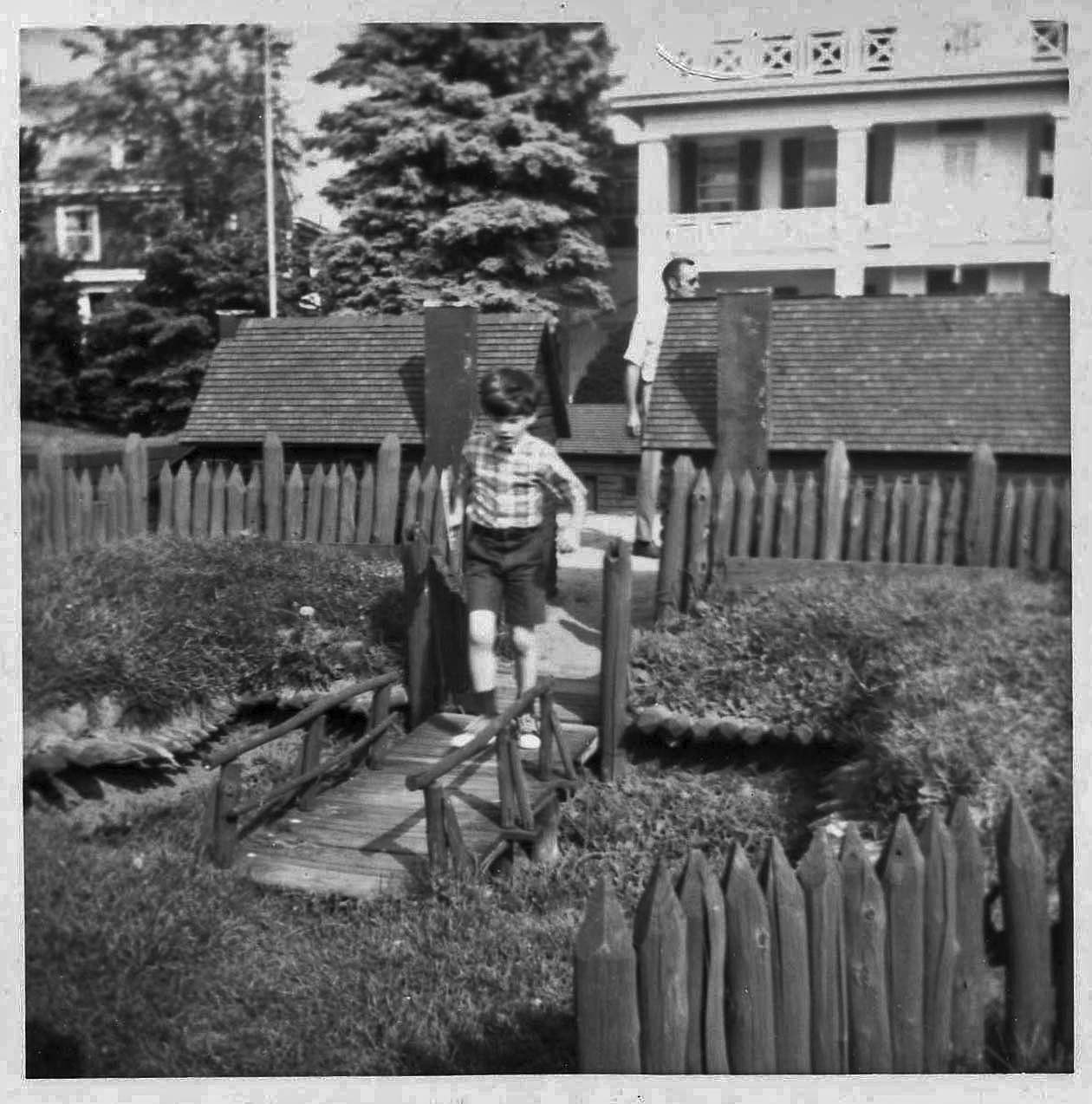 Tim at Ft Augusta, Sunbury c1970
In the 1990's, I began to collect books for my own personal genealogy library. These books were not acquired all at once, but slowly over many years.
Also in the 1990's, the internet became a way to exchange information. At that time, it was dominated by volunteers transcribing records and posting them on the internet (you'll find many of my internet contributions circulating on the net under "Tim Conrad"). As time went on, there was a shift to commercial sources, although there are still quite a few free records posted by volunteers.
I found that as the research shifted to the internet, the quality of research went down fast. Too many people willingly accepted whatever they find posted and don't question it. I would recommend only using what you can prove - that which has documented sources. You'll need to assess the number and quality of your sources. If you want, I can help look over what you find in the internet. Ask around and you'll find that information from on-line family trees by itself is extremely unreliable.
Now that I have more time available, I would like to help others with their searches. I have also hired others to do research and know some of the good and the bad experiences that people have had. I will put you in the driver's seat to have as much or as little research as you want or need. I can help with very broad topics or just answer one or two very specific questions. Perhaps you enjoy doing your own research, but became stuck finding a name or a particular record.
You'll find that my 30 years experience as an electrical engineer has developed my investigative thinking skills as well as a healthy skepticism.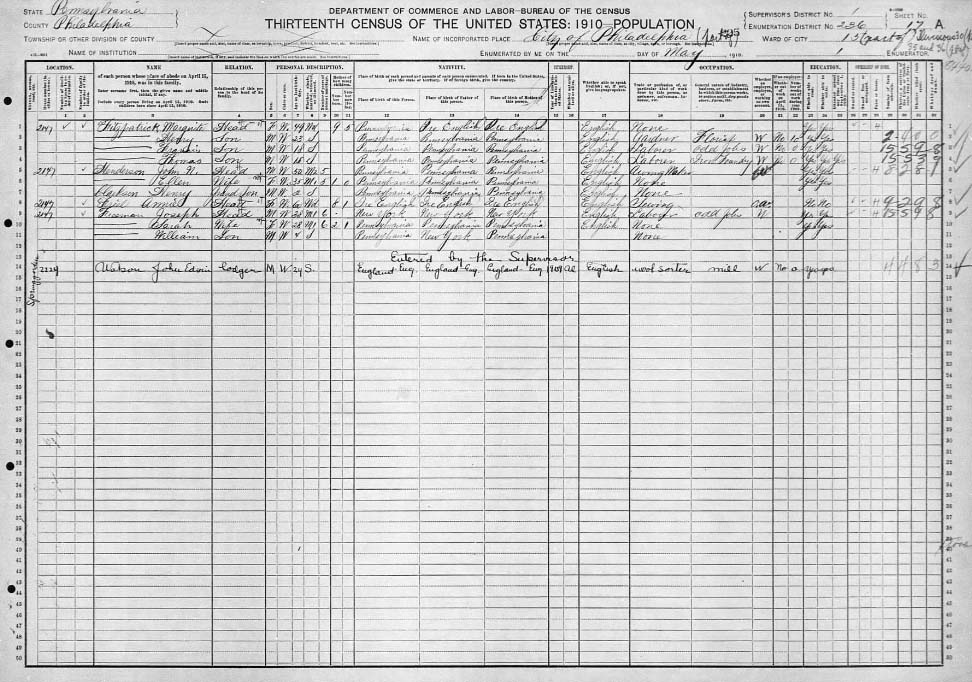 John N Henderson, Philadelphia, 1910
Special Limited Offer -
Census Challenge
For a limited time, I am offering to search for one ancestor that you couldn't find in a particular US census. If I find the person, the search fee is a flat $8.00, regardless of the amount of time it takes me. If I don't find them, I'll let you know and there is no fee. Try out my search skills with no risk.
Internet Research
In addition to many free sites (which you also have access to), I have paid subscriptions to the following web sites:
I have had others, but these have had the best $/useful content ratio, in my opinion. Regardless, I have spent years researching on these and other sites, and I know the best ways to search on each one. Each site has different capabilities to do "wild card" searches, where you need to work around transcription errors or incomplete information. Sites that use Optical Character Recognition (OCR) have their own quirks to overcome when searching for records. I have found that many times the information is there, but the trick is knowing how to find it.
While my personal records collection is dominated by Pennsylvania, I am comfortable researching people throughout the United States using my paid subscriptions (and saving you money).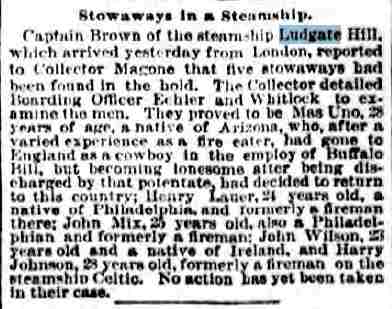 John Mix (my ancestor) stowaway, NYC, 1888
Ancest4 ™ South East/Central Pennsylvania Library
I have collected a large library of books and CD-ROMs that I have on-hand. Quite a few of these are not available via the internet, and I can search them for you, saving you time and money. Most are indexed making them quite easy to search, and a few are not. Because I have these records on-hand, you will not have to pay someone travel time to check them for matching names. Most of these records are for SE and Central Pennsylvania, but you'll see that there are many records that cover the surrounding areas. As most of my ancestors came through the SE PA region, I am especially knowledgeable of the people and records of this area.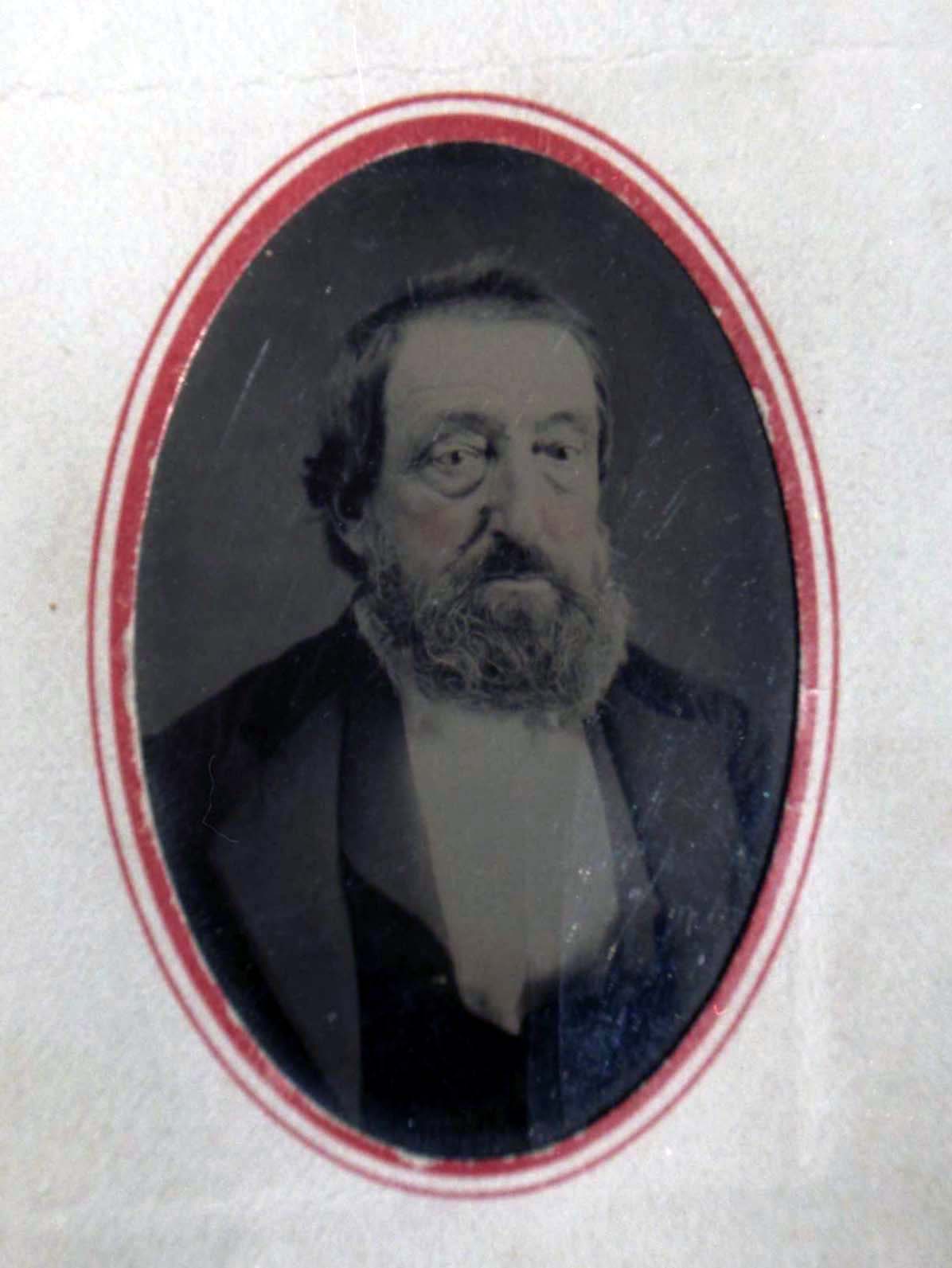 Frederick Miller, Schuylkill County, 1822-1897
Local Research
I live in Allentown, Lehigh County, Pennsylvania. As time permits, I may accept research in the local area including the Lehigh County courthouse, Lehigh County Historical Society (I am a member and former board member), and Allentown library.
You are in the driver's seat
If you are interested in having me do research for you, I accept Pay-Pal (preferred) and personal checks (after they clear the bank). The hourly rate is $28 per hour. I bill by 30 minute increments (minimum 0.5 hours). For more than 30 minutes of research, I require prepayment out of which I will conduct research until the funds are exhausted. Any residue of funds (in 0.5 hour increments) will be returned via Pay-Pal credit.
Before beginning any assignment, you will need to complete a short form outlining what you're looking for, as well as any information you already have (I don't want you to pay for information you already know!). Then we'll agree on the scope of research you want done before I begin any work.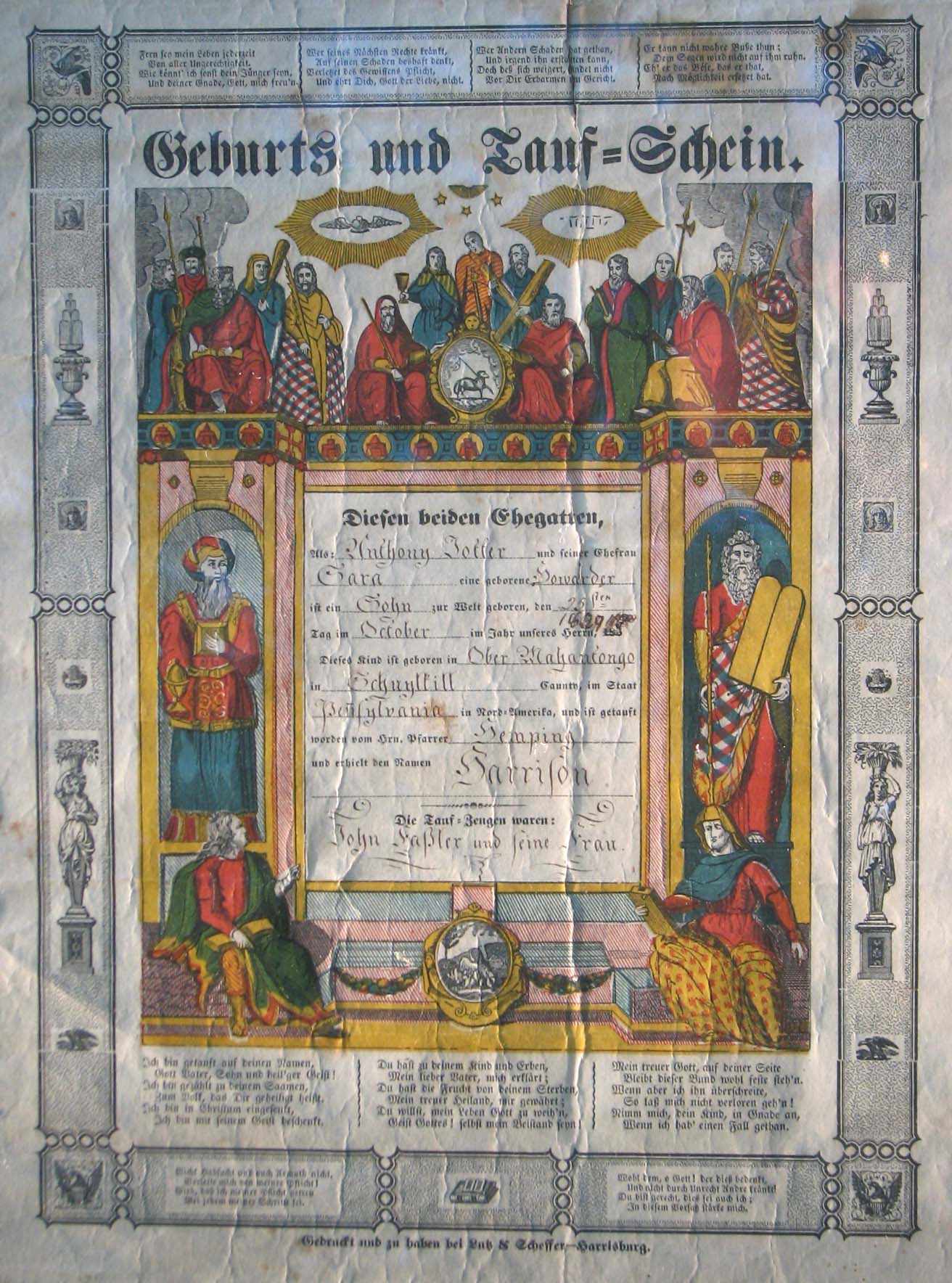 Harrison Yoder Taufschein, Schuylkill County, 1829
By default, I will provide you with the following research results via email:
source information (URL, book and page number, etc) for every record
jpg images of all records already in a digital image format
a transcription of information from books (ie, birth/baptism and sponsors)
I can optionally provide:
jpg scans of all book pages (vs. a transcription) (but you pay for scanning time)
hard copies via US Mail ($0.50/page + shipping, paid in advance)
If a book page has many entries, I will automatically scan vs. transcribe to save me time and you money. If you want digital scans of everything regardless, I will do that.
---
---
Contact
If you're unsure about hiring a researcher, email me and we can discuss. There is no obligation and I will tell you if I can help you with your research, and if I can, some options for you to consider.