Return to Ancest4 Main Page.
---
Jacob Conrad Research
Welcome to the Jacob Conrad research page! Be sure to join our Facebook Page for Jacob Conrad Descendants to discuss and share information.
---
Jacob Conrad comes to America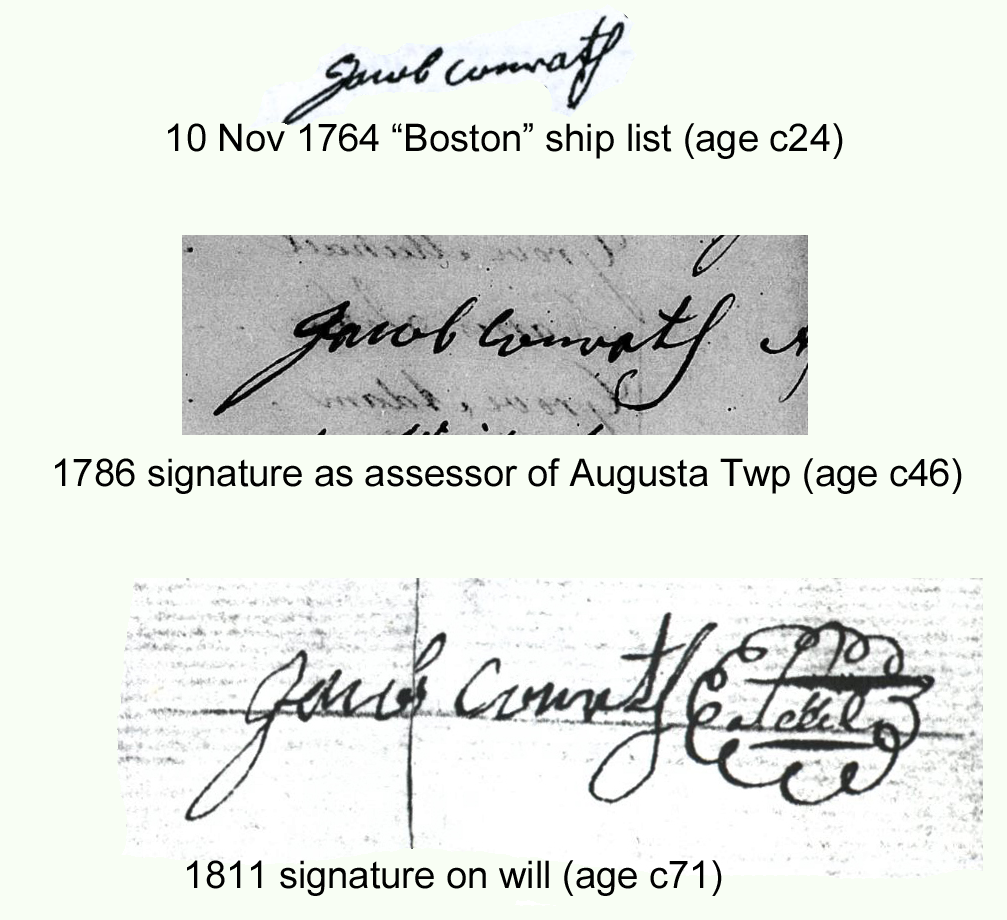 Jacob Conrad signatures
Jacob Conrath immigrated from Germany to America on the ship "Boston", arriving in Philadelphia on 10 Nov 1764. It seems he went right to Berks County, Pennsylvania. When his son Jacob Jr was baptized in Reading, PA in 1765, his wife is listed as Anna Catharine (who is also mentioned in deeds) and it would seem that they were married in Germany. If one compares the signatures of Jacob on the ship list, later as an assessor in Augusta Township, and on his will, there should be no doubt that this is the same person. Further, attempts to link our Jacob to other Pennsylvania Conrad families can all be easily discredited. The Jacob Conrad, son of Peter of Montgomery County had a different wife and lived at the same time in Southeast Pennsylvania. The Jacob Conrad's of Berks, Lancaster, and Dauphin Counties also led separate lives.
Jacob's will of 1811 seems to list his children in birth order (as do some of the other early Conrad wills) and from this we can infer that his first two children, Johan Nicholas Conrad and Mary Conrad, were born in Germany. I think Nicholas's age is off in the following, and we was likely born a year earlier based on tax records.
Jacob is found in the Oley tax list as a blacksmith but he doesn't make much of a presence in Berks County, other than the baptism of his son Jacob Jr. He began acquiring land in 1769, but the tax list suggests he hadn't moved his family until closer to 1773. It seems he didn't own any land at this time and was waiting to acquire cheaper land in the newly released areas (which would also require going through the warrant process, clearing the land, etc). When he moved to Northumberland County, he bought land along side Frederick Hill, who was also from Berks County. It's not clear if there is any relationship between them or if they just became friends in Oley Township. Jacob later bought the neighboring Frederick Hill land to extend his holdings along Hallowing Run.

Jacob Conrad, smith, in Oley tax list, 1768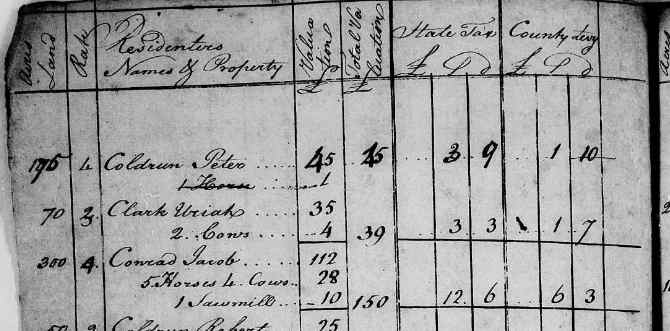 Jacob Conrad, with 300 acres and a saw mill, in Augusta Township tax list, 1788
Here Nicholas Conrad (1763-1841) writes about the early years in his own words (tax records suggest he was actually born a year earlier than this says) in the following affidavit from 1830...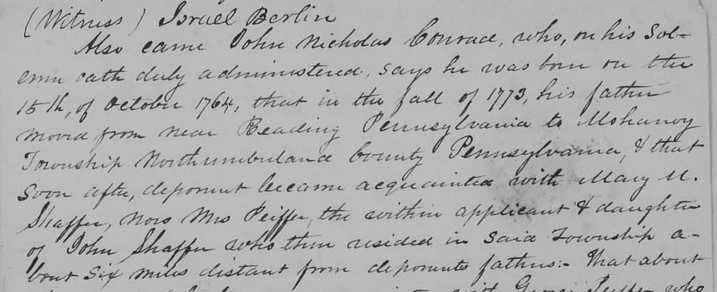 "Also came John Nicholas Conrad, who, on his solemn oath duly administered, says he was born on the 15th of October 1764, that in the fall of 1773 his father moved from near Reading Pennsylvania to Mahonoy Township Northumberland County Pennsylvania, and that soon after, deponent became acquainted with Mary M Shaffer, now Mrs. Peiffer, the within application and daughter of John Shaffer who then resided in said township about six miles distant from deponents father."

signed in Crawford County, 1830, "Jo han _ich? las Conroth"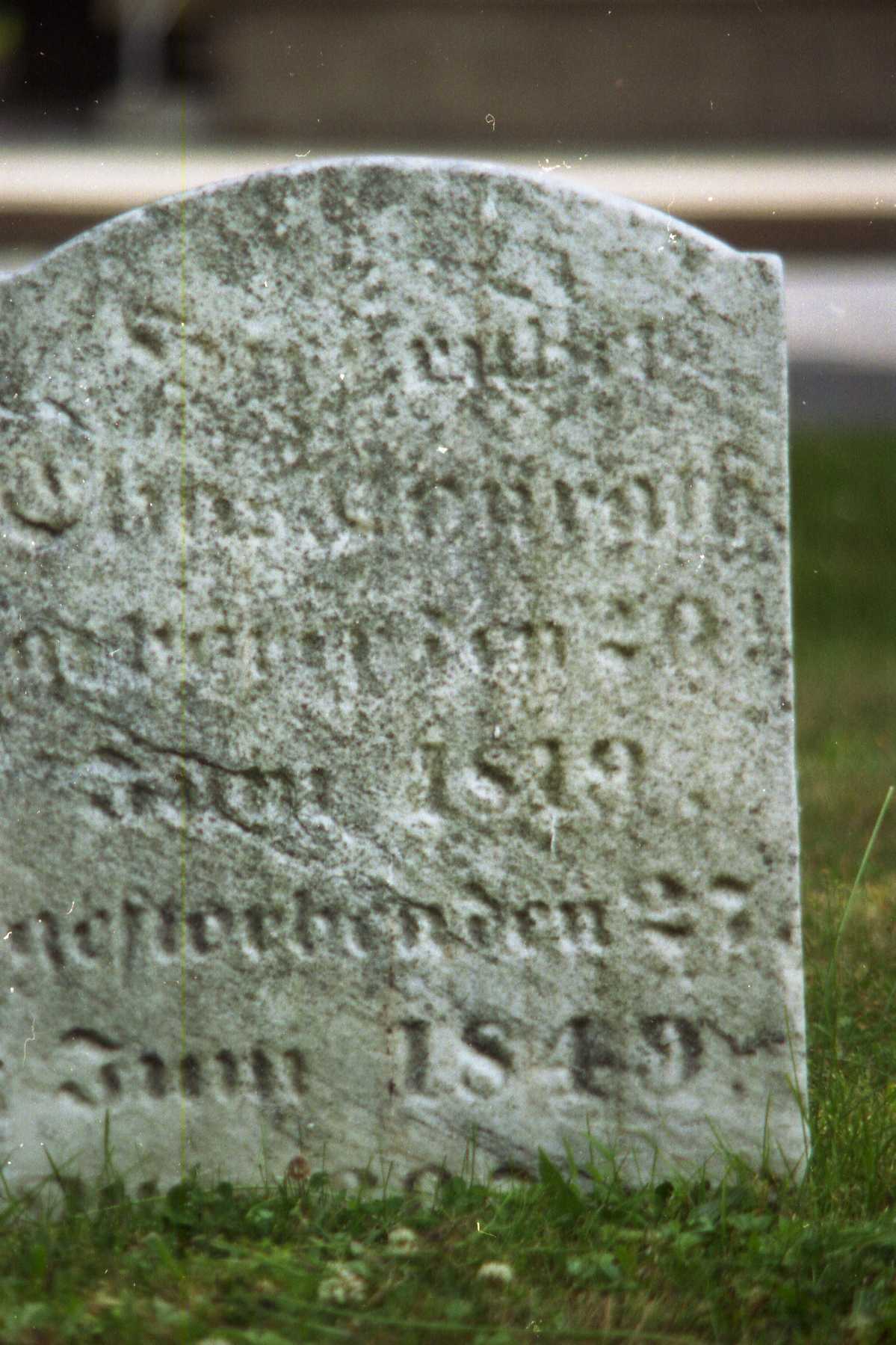 Charles Elias Conrath (1819-1849) one of the last uses of Conrath
After arriving in Augusta Township, Jacob continued to buy land via the land warrant process as well as at a sheriff's sale and later gave this land to his children. In 1796, Jacob bought land in the "big city" of Sunbury and retired there, being listed as occupation "gentleman" in 1810, right before he wrote his will. His exact date of death is unknown, but one can presume he died about 2-4 weeks before his will was probated and so he probably died in June of 1812. There is no burial location, but a guess would be the Old Sunbury Cemetery.
Jacob and his children spelled their surname "Conrath" in wills and deeds, but the county recorded them all as "Conrad". Everybody after the first generation changed their name to "Conrad". Even the youngest son John has Conrath on his tombstone. Realize that the German 'th' sound is different from English as in "bath". It's a hard 't' sound, more like "bat". My father who lived in Sunbury was told by his grandparents to pronounce the name "Coonrod" (he never did!) and it's interesting that the Christian Conrad family that went to Iowa changed their spelling to "Coonrod".
Note that a German custom at the time was to use a "rufname" which is actually more like a "prefix name". Unlike the modern "middle name", the person used the full name only in certain formal occasions, and otherwise used only the middle part, dropping the prefix. So "Johan Jacob Conrad" would actually go by "Jacob Conrad" in most cases. The longer name "Johannes Conrad," which didn't have prefix, would be shortened to "Johan Conrad", "John Conrad" or even "Hans Conrad". So don't be confused by the rufnamen used by the early Conrad's. By the early and middle 1800's, this practice fell out of favor, depending on the surrounding culture. More Anglicized areas switched to the middle name convention earlier.
I've seen several instance of people associating Jacob with the militia soldier from Lancaster County, PA in 1779. Lancaster County was nowhere near Northumberland County, so it's difficult to imagine Jacob being 39 years old with a large family joining a militia unit in Lancaster. Note that the record says the unit was "from" Lancaster and marched to Sunbury. Militia troops were often practicing by marching to the hinterland. Anyways, I'm confident that this record refers to a local Lancaster Jacob Conrad, mostly likely Jacob Conrad of Lancaster who was born circa 1757 and was a son of Leonard Conrad from that area. Sorry, no DAR/SAR here.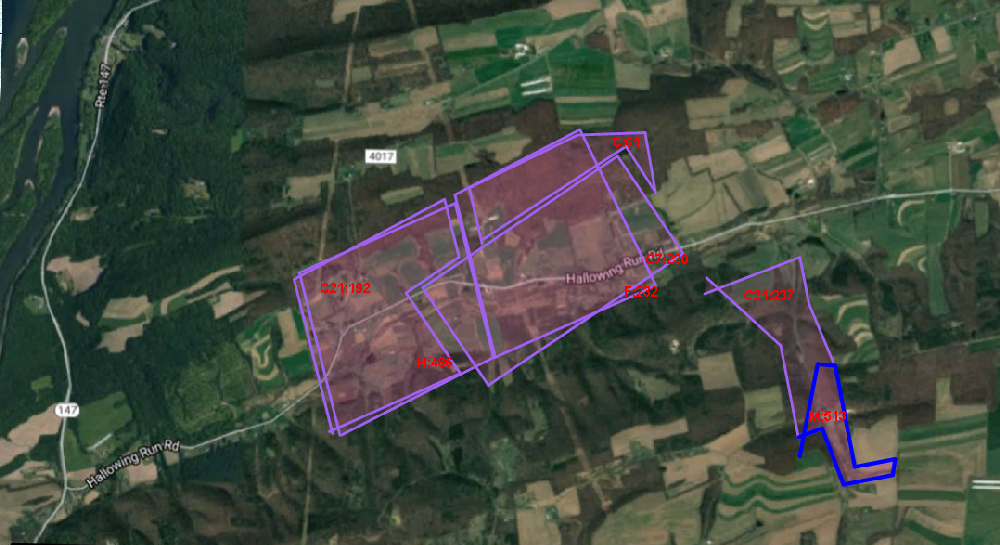 Jacob Conrad's early land in Northumberland County. Survey IDs shown. More can be found by clicking here.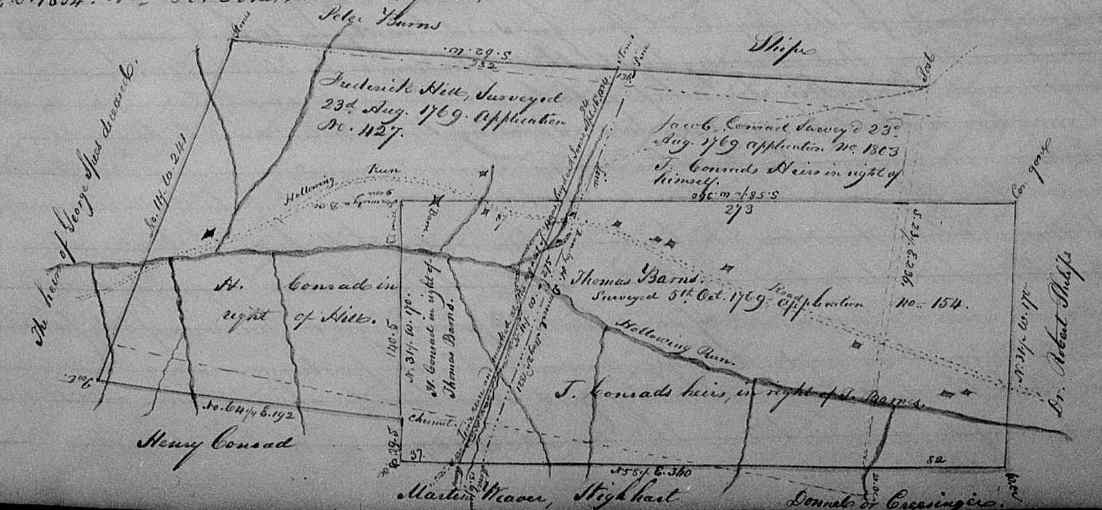 Deed Z:167 from 1784 draws out Jacob Conrad's original land showing houses and barn.
---
German Roots
I have not seen any credible evidence to show where in Germany he came from or the surname of his wife. However, based on DNA evidence, I have found a moderate match to my DNA with descendants from the Southwest Germany where many Conrad families lived. I am "J39TG" on Ysearch and user "HBXAE" is from Ottersheim. The Peter Conrad family of Falckner Swamp from Southwest Germany came from this same area (as did some of the other Conrad's that migrated to Pennsylvania - see Burgert's immigrant books).
I would also note that a Johan Carl Boley was on the ship Boston with Jacob Conrath. Later in 1766 in Reading, a Carl Ludwig Boley was a baptismal sponsor to the other Jacob Conrad and wife Margaretha from Falckner Swamp in Montgomery County. And finally, in 1806, there is a Nicholas Baily living on Jacob's land in Northumberland County, according to a tax list. Are these families all related in Germany?
Summary of places in Germany of interest:
Niederhausen - the location where Peter Conrad of Falckner Swamp, Montgomery County, PA came from
Bosenheim - Johan Carl Boley/Baily family came from here?
Alsenz - Carl Boley baptism?
Ottershiem - Tim has a loose DNA match to a Conrad descendant from here (the closest match found to date)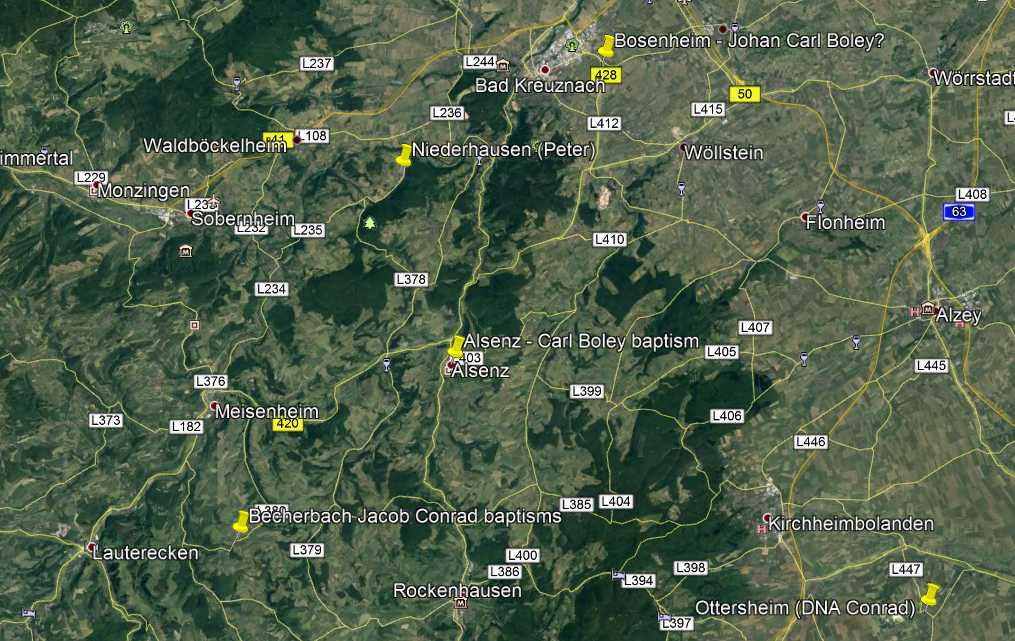 ---
Here is a list of the early pioneer Conrads who left the comforts of home for opportunities in the West. This started after Jacob Conrad Jr died young, and many of his kids moved on, and others joined them.
---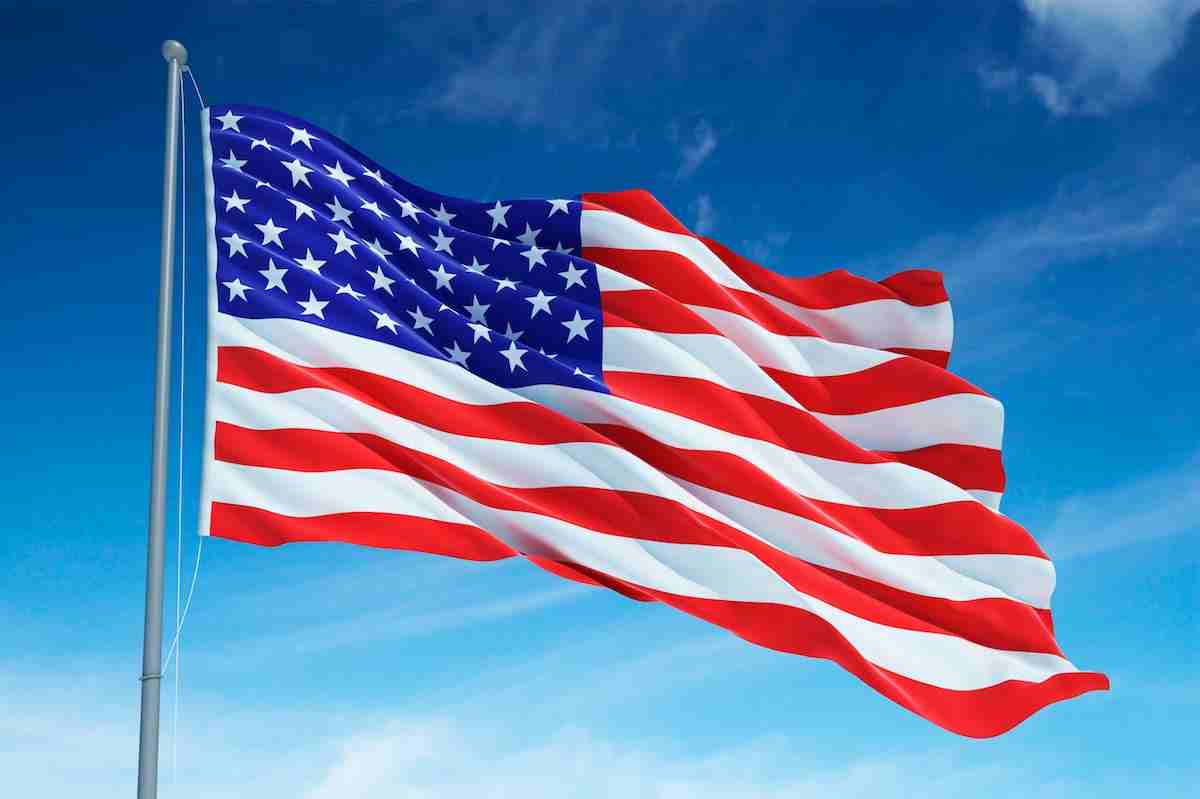 It always feels good to know our ancestors volunteered to keep our country free. Here is a place we can honor them and let other researches know who served in the military. Following is a list of descendants of Jacob Conrad (as best as I can determine), their birth state, birth-death dates, and service. These are grouped by war dates and do not mean to imply that anyone did or didn't serve in a specific theater of conflict.
Revolutionary War
Jacob Conrad Sr did not serve and his children were too young
War of 1812
I don't think any of our Conrad's were in this war
| | |
| --- | --- |
| Civil War | |
| | |
| --- | --- |
| Spanish American War | |
| | |
| --- | --- |
| Mexican Border Campaign | |
| | |
| --- | --- |
| World War I | |
| | |
| --- | --- |
| World War II | |
| | |
| --- | --- |
| Korean War | |
| | |
| --- | --- |
| Vietnam War | |
Peace Time
Steven J Conrad, PA, 1956-, Air Force, PA Air Guard
Timothy R Conrad, PA, 1963-, Army Reserve and PA Air Guard
Let me know of any other conflicts and I'll add them
---
---
Back in the 1970's, my father and I were trying to figure where Jacob Conrad came from how he might be connected to other Conrad's. By the early 1990's, I realized this was way too confusing. I believe there were about 50 or so Conrad families that immigrated to Pennsylvania in the 1700's. In the early 1990's, I set out to solve this mystery by researching all the early Conrad families that settled in Pennsylvania and see how they were connected. I uploaded that information (largely untouched since then) here on ancestry.com. My conclusion was that most were separate immigrant families, although there were a number of early families that moved from SE Pennsylvania into the interior, but our Jacob Conrad was not one of them. I realized that people had been combining many different Conrad families together and since Conrad was a relatively common name, it was easy to do. Following are some links to the different Conrad families easily confused with Jacob Conrad of Sunbury and Augusta Township.
---
Delaware County, Iowa (Coonrod)
---
---
---
---
Northumberland County, Pennsylvania (Sunbury, Shamokin, etc)
---
---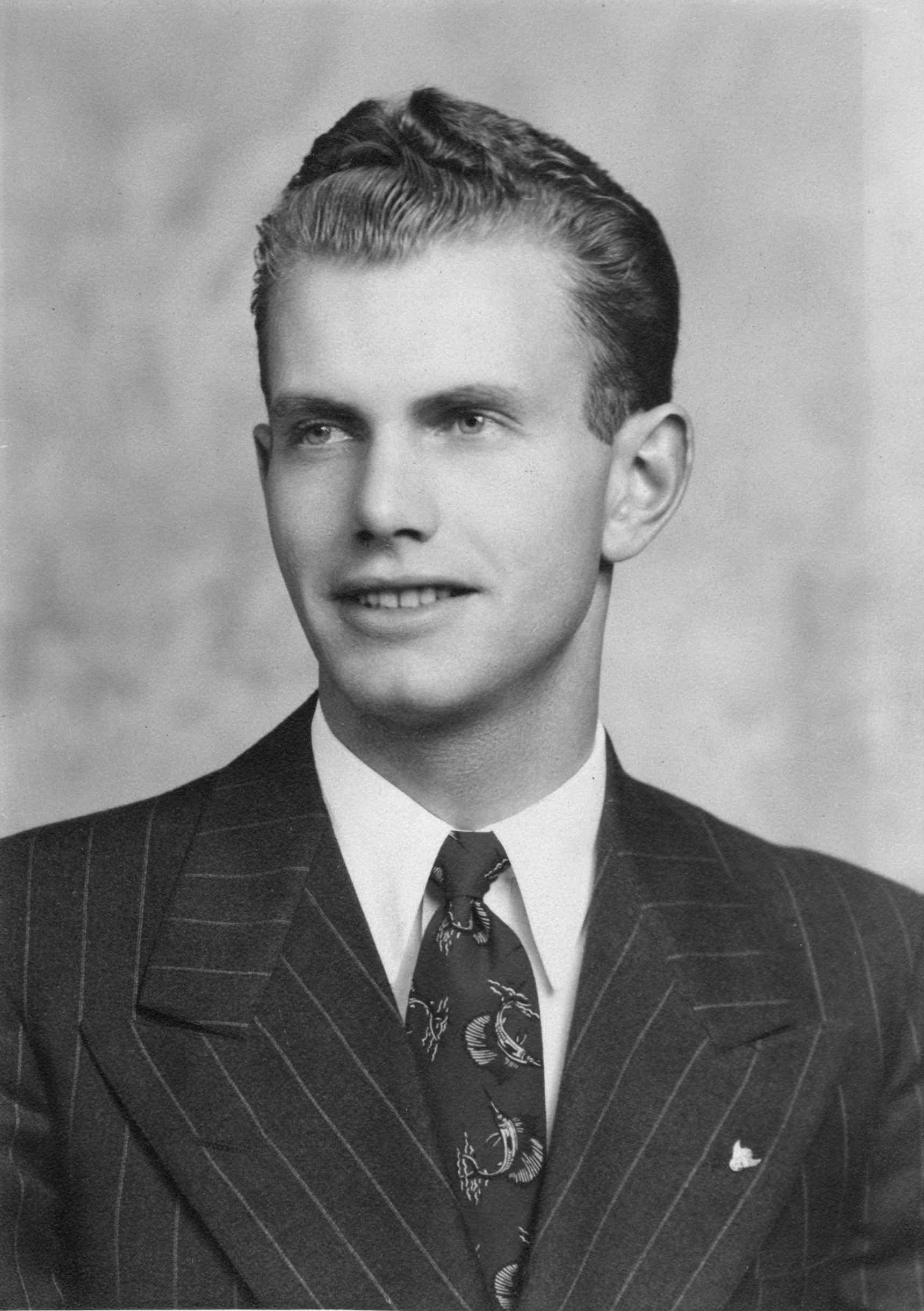 Robert E Conrad, Jr (1925-2011)
This web page is dedicated to my father, Robert Earl Conrad, Jr, who spent considerable time between the late 1970's and his death in 2011 doing research on the descendants of Jacob Conrad. He was doing the original "old school" research of driving to court houses, historical societies, cemeteries, and calling and interviewing people to put this tree together. We both had considerable input from the dedicated Dr. Joseph Meiser who spent his life dedicating to researching *all* of the Northumberland County families as well as many other (see his Conrad Family Tree at the Northumberland County Historical Society).